Visiting the Erie Maritime Museum on the waterfront in Erie, Pennsylvania, is a unique and rewarding experience. Not only will you see exhibits, historic paintings and a narrative film about the Battle of Lake Erie and the War of 1812, but you can also walk the decks of the restored US Brig Niagara moored in the harbor only a few yards from the courtyard doors. Back inside the Museum, demonstrations are scheduled for special events so you can watch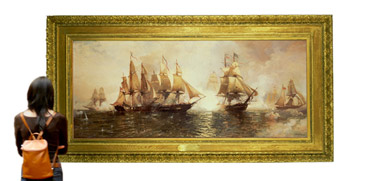 the sailors set the sails or drill on the ship's cannons, and you can explore other maritime exhibits. Take the opportunity to select reproduction prints, posters, postcards or other fine gift items from the Shipwright Shop, and visit the Erie Library adjoining the Museum.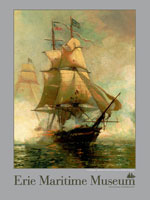 Posters Available

The framed J.O. Davidson painting of the Battle of Lake Erie (54"h x 102"w) is housed in a climate controlled case midway through the Museum's extensive War of 1812 exhibition, and an enlarged mural of the painting welcomes you in the entrance lobby.
The Flagship Niagara offers unique experiences for those interested in learning to sail a Tall Ship. The Niagara is a Sailing School Vessel,

and offers: Square-Rig Seamanship Training Courses. Trainees in the Square-Rig training program actually have the experience of sailing onboard the Niagara, for one day to six weeks, depending on the course and level of sailing experience. These courses are offered from mid-May to mid-September
Place your applications in advance : Brig Niagara Sailing

Contact: Erie Maritime Museum
150 East Front Street,
Erie, PA. 16507
814-452(BRIG)2744
www.flagshipniagara.org